BEST EVER PAINTED KITCHEN CABINET DESIGNS
Posted by Client Care on Tuesday, November 19th, 2013 at 10:50am.
If you have been dying to update your kitchen, but do not want to install all new cabinetry or are on a budget, I suggest checking out these awesome painted kitchen cabinet designs for a little inspiration!
1. This teal painted kitchen has tons of personality and is super chic! 
2. I never would have thought to do two colors, but these earth tones have a natural and organic feel that I love!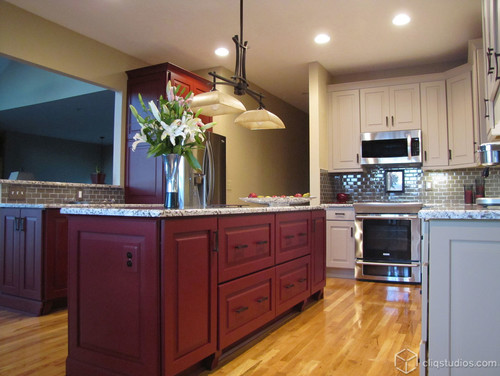 3. The garnet color of this island offers warm sophistication and offsets the light color cabinets perfectly. 
4. Love, love, love the little hints of yellow in the corner cabinet and the way it pops off the stainless steel sink. 
5. The charcoal grey in stark contrast with the white is a perfect complement to the killer tile accent wall and stunning copper lights. 
6. I love how the combination of the natural wood, painted floating hutch and the butcher block creates a cute country feel! 
7. The cream colored cabinets and the natural stained countertops are subtle, but really pop against the white tile and walls! 
8. Faux antiquing is usually not something I personally like, but the dark finish with the copper accent is just delightful in this elegant kitchen. 
9. Little special touches like painting the inside of your cabinets a lively color gives a lot of personality to a plain white kitchen design! 
10. The unique paint color of the cabinets, dark tile, and the white walls give this kitchen a classy island feel that I adore!
Blog Tags
---
Be the first to comment on this blog entry!
---
Leave a Comment